Bathroom Remodeling Contractor
We are a full-service remodeling company with more than 30 years of experience helping homeowners renovate their bathrooms. See how we can help you achieve your bathroom remodeling goals.
Contact Us
South Florida's Experts in Bathroom Remodeling and Renovation
Professional Bathroom Remodelers in

Pompano Beach

 and Surrounds
At National Restoration & Remodeling Experts, we are proud to be a full service bathroom contractor in Pompano Beach, FL. We offer a wide range of services to our clients, from design and consultation to complete remodeling services. We believe that every home should have a beautiful, functional bathroom and we are dedicated to helping our clients achieve that goal.
Our team of experienced professionals can handle any size project, and we always use the highest-quality materials and equipment to ensure a lasting finish. We're also fully licensed and insured, so you can rest assured that your renovation will be done safely and professionally.
Remodeling and renovation are two of the most important investments you can make in your house, so it's important to choose a contractor you can trust. With years of extensive experience and a commitment to customer satisfaction, National Restoration & Remodeling Experts is the right choice for all your bathroom needs.
We Are A Full Service Bathroom Contractor
When you choose National Restoration & Remodeling Experts, you can be confident that you are choosing a general contractor with the experience and expertise to get the job done right. We have been providing quality bathroom remodeling services to homeowners throughout Pompano Beach, Broward and Palm Beach Counties in South Florida for more than 30 years, and we have the skills and knowledge necessary to help you create the bathroom of your dreams.
In addition to our experience and expertise, we are also a full-service general contractor, which means that we can handle every aspect of your bathroom remodeling project from start to finish. We will work with you to design a bathroom that meets your needs and aesthetic preferences, and then we will handle all of the necessary permits and construction. We can even help you choose the fixtures and finishes to complete your new bathroom.
Custom Bathroom Designs
We understand that every house is different and that each person has their own unique style. That's why we offer custom bathroom designs that are tailored to your specific needs and preferences. We'll take into account the size of your bathroom, the layout, and your personal taste to create a space that you'll love.
Do you want to have bathroom vanities that are both stylish and practical? Well, you can with National Restoration & Remodeling Experts. We offer a wide selection of vanities in different styles, colors, and materials. We can also customize vanities to meet your specific needs.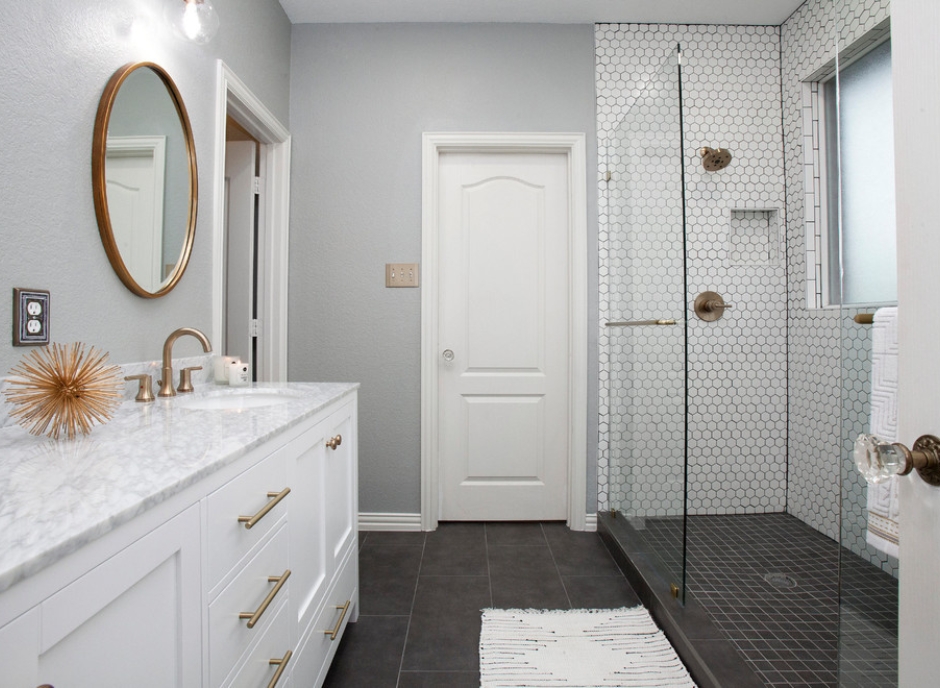 We Design According To You
Designing your own bathroom for your remodeling project can be a real headache. Which tiles should you choose? What should the layout be? How big should it be? And the list goes on! National Restoration & Remodeling Experts can take the headache out of designing your bathroom and help you to create the perfect space for you.
Bathrooms are not only functional; it's a space where you can relax and escape the world for a little while. So why not make it perfect for you? With our help, we can create a bathroom that is tailored to your needs and desires. Whether you go with a more classic look or want something more modern, we will work with you to make sure you love your new bathroom.
Plan
 First, we work with you to plan your ideal bathroom space. We'll sit down with you to discuss your vision for the space and what your budget is.
Design
Then, we move on to the design phase. We create a custom design that is both functional and stylish and make sure it meets your needs and fits your budget.
Build
Finally, we build your dream bathroom. We'll handle every aspect of the project, from demolition to final touches, to ensure that your bathroom is exactly the way you want it.
Whether you are looking for a complete bathroom makeover or just a few simple updates, our team of bathroom remodeling experts can help. We are committed to providing our customers with the highest quality craftsmanship and customer service.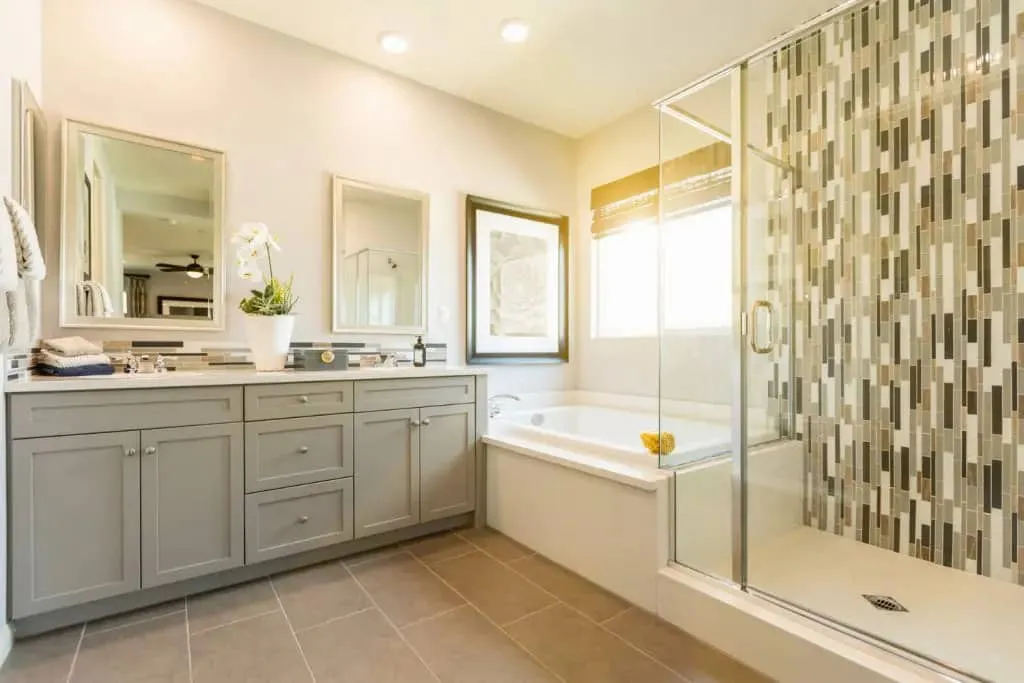 Cabinetry
Our experts will assist you in selecting the right cabinet type for your preference and budget. We recognize how important it is to improve your base and wall cabinets' storage space to embrace your evolving lifestyle. It is vital to get a style that complements the rest of your home space and blends in with the environment when revamping your bathroom cabinets.
Modern Cabinets

Traditional Cabinets
Countertops
From a classic look you can keep indefinitely to a trendy look that will turn heads. We have a plethora of countertop designs and finishes suitable for your entire renovation. Countertop surfaces are available in a vast array of premium types and materials, meaning that you will find an applicable match.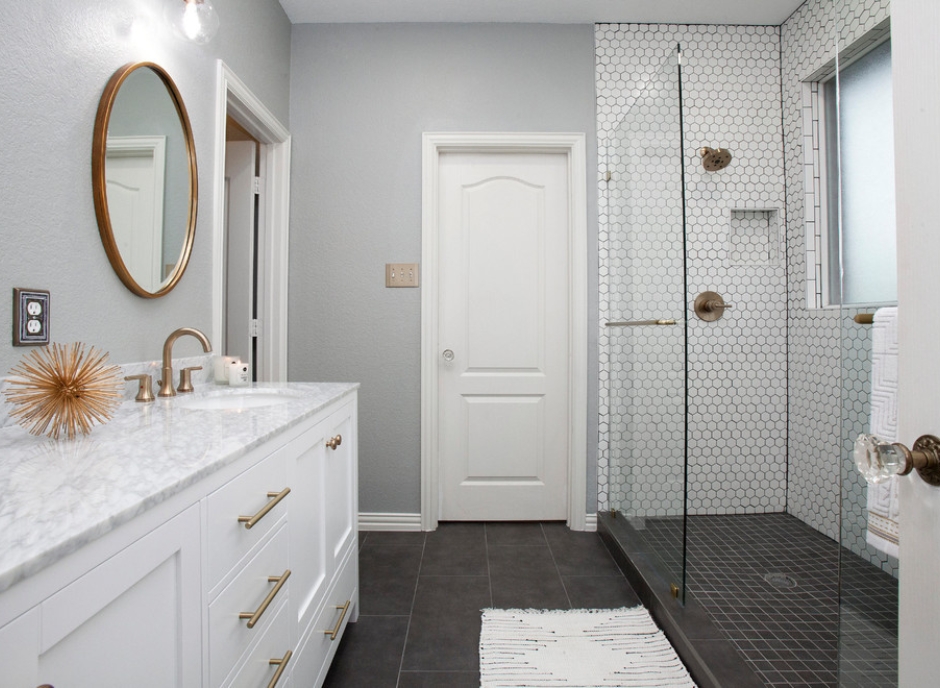 Flooring
When considering bath remodeling, selecting the flooring is an essential move. Our professionals are certified and licensed to lay the best flooring products in your space. When settling on the perfect floor surface, consider protection, cleaning criteria, cost, and your specific style.
Your Bath Deserves A Refresh
A well-designed bathroom can be a refuge, a place to relax and recharge after a long day. On the other hand, a bathroom that is in need of renovation can be downright frustrating. If your bathroom is looking a little worse for wear, it might be time for a renovation.
We are here to help make the process as smooth and stress-free as possible. Our team of experts will work with you to create a bathroom that is both functional and stylish that will significantly add to the value of your home.
There are many benefits that come along with renovating your bathroom. An updated bathroom will be more efficient and easier to clean than an outdated one. You will also have the opportunity to customize your space to better suit your needs and taste.
If you are considering a bathroom renovation, National Restoration & Remodeling Experts is the company for you. We have years of experience and will work with you every step of the way to create a beautiful new space that you will love.
Call National Restoration & Remodeling Experts For Bathroom Planning And Design

(954) 406-8628
Creative & Cost-Effective Solutions For Your Next Project
If you are looking for the best interior designer in Pompano Beach, look no further than National Restoration & Remodeling Experts. We provide creative and cost-effective solutions for your next home interior design project. Our experienced team can help you create a space that is both beautiful and functional. 
We are committed to providing our clients with the highest quality service and products possible. We work closely with each client to ensure that their needs are met, and their expectations exceeded. Get a free estimate today to get started.
We Serve The Following Areas
As a full-service general contractor, we offer our services to homeowners in: